The Library of Congress, National Archives and Records Administration, and Smithsonian Institution, launched #19SuffrageStories in August 2020 to mark the centennial of the 19th Amendment becoming law. Together, we expanded the suffrage story to highlight how groups and individuals who were Black, Indigenous, and people of color (BIPOC) blazed the trail for equal voting rights, both before and after the passage of the 19th Amendment.
The campaign told 19 stories of women's suffrage in 19 days on Instagram and Twitter, with posts on each weekday from August 3-26. Each story's hook was a number, counting from 19 to one. For example, story number 16 represented the age of Mabel Ping-Hua Lee when she led a suffrage parade on horseback. Four years after the ratification of the 19th Amendment, many American Indian women (and men) gained the right to vote through the Indian Citizenship Act; this was our story number four. We collaborated to develop a set of colorful graphics that presented a cohesive series, which made the series easier to follow over 19 days and offered a fresh, visually rich way to interact with women's history.
Each day, the three institutions posted these graphics simultaneously and shared additional objects and documents that connected dots across our collections. We shared additional content on Facebook accounts, websites, and newsletters for each of our organizations.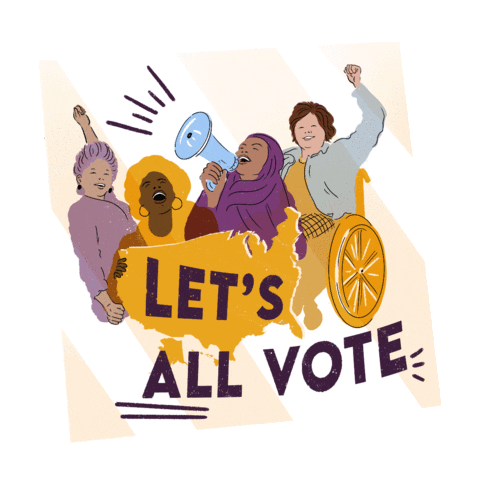 We also developed animated GIFs and Instagram stickers inspired by our collections that sparked connections between past and present for social media users who added them to their stories and posts. This addressed a gap on social media where audience members lacked interactive ways to share BIPOC women's suffrage history. Audience research indicates that generation Z wants to be part of content creation. Our 10 animated stickers met this need and connected this audience with women's history. We also published a joint blog post that explains the history inspiring each animation. The most popular animation is titled "Let's All Vote." As of March 2021, it has 116 million views. Its design is based on a sign used by 1950s voter education activists in a photo from the National Museum of African American History and Culture.
Caption: This is one post from an audience member augmented selfies and posts using our Instagram stickers. (This is a still image, but when viewed on Instagram the illustrated stickers included movement.) 
We had two goals for our unified campaign:
Goal 1: Increase awareness and inspire discovery of our women's history collections, with a special focus on lesser-known and BIPOC individuals and organizations that worked for voting rights.
Goal 2: Motivate audiences to connect with suffrage history and draw connections between the past and their own lives in the present.
Our metrics indicate we achieved both goals. In a summer when attention spans were stretched by a global pandemic and national reckoning on race, our campaign's relevant stories connected with audiences. In the last 100 days before the 2020 presidential election, we shared history with an approach that embraced complexity, showcased voices that were lesser-known to many, and sparked inspiration. In a month when many organizations were presenting suffrage history, our campaign earned praise for acknowledging that the 19th Amendment was an important moment voting rights but not the end of the fight, especially for BIPOC communities. Audiences commented that they discovered stories they wish they'd learned in school, that they admired the women whose stories we told, and that they had been moved to share these stories with daughters and friends.